Jazzy Air 2 Extended Range
Limited Time Free White Glove Delivery. Travel up to 19.2 miles on this industry leading power wheelchair!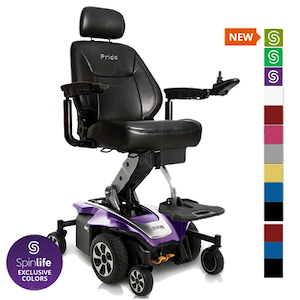 More Information on the Jazzy Air 2 Extended Range
BACK TO TOP
Reviews
Viewing 1 - 12 of 13
easy to use and very comfortable
02/11/2021
Strengths:
powerful, very good over small obstacles
Weaknesses:
raise and lower switch on the LH arm wrest is very weak and prone to breakage
Reviewer:
william k. from saint johns, fl
User Details:
male 66 years old
Great in-home elevating power chair
12/02/2020
Strengths:
Main strength is it's elevating feature. Just reaching items 12 inches above your head is very helpful. The controller is very responsive. Manual back tilt is good. Assembly is straight forward.
Weaknesses:
I wish the chair had a better foot plate adjustment/tilt/extension. The seat pan is non-adjustable and has a downward slope to it. Arm rest need to adjust inward/outwardly.
Reviewer:
steve c. from austin, tx
User Details:
The person that uses this product is a 69 year old T-9 SCI paraplegic with advancing cervical arthritis with rotator cuff tears in both shoulders.
Delivered 2 weeks ago, still working on getting it use a...
08/29/2020
Strengths:
Appears to be of good quality,but due to various issues,I hope to be able to use it soon.
Weaknesses:
Came with wrong batteries. They sent new ones. They set up a repair Tech to install, he came and installed the batteries professionally. He then found the charger was bad, waiting on that. Hopefully I will be able to use this terrific chair.
Reviewer:
richard g. from borrego springs, ca
User Details:
Unable to walk
The chair is amazing. The customer service was amaziing.
06/15/2020
Strengths:
Our individuals can operate the chair with ease.
Weaknesses:
I have not seen/noticed any weaknesses.
Reviewer:
theresa s. from chicago, il (caregiver)
User Details:
The chair was purchased for one of our facilities. Different disable adults will use the chair for outside activities.
High quality power chair with lots of features and options.
05/28/2020
Strengths:
It appears to be well engineered and constructed and I believe will last indefinitely. The controls are intuitive and easy to use. The lift mechanism was my one worry but it outperforming my expectations after the first month of ownership.
Weaknesses:
Because of the drive design the chair can become unstable when crossing thresholds at an angle. Be careful. My solution was to place ramps at all thresholds to prevent the wheels getting hung up on the threshold themselves, specifically to exterior doors.
Reviewer:
rolf s. from emerald isle, nc (caregiver)
User Details:
I purchased this chair for my elderly mother to extend her mobility beyond a walker.
A pleasure to ride and drive. Great to be taller.
04/10/2020
Strengths:
Lift works with both/either hand. Sturdier than previous models I have owned.
Weaknesses:
Front rigging platform is too confining. Feet fall off sometimes.
Reviewer:
reba h. from tallahassee, fl
User Details:
66, lower paraplegic, diabetic, congestive heart failure.
Good for full wheelchair living
03/22/2020
Strengths:
Although my house is ramped for a wheelchair, it is still a normal house with respect to cupboards, bookshelves, light switches, etc. sometimes out of reach of the usual chair. The Air 2 lift feature lets me access more of the house.
Weaknesses:
Like most electric wheelchairs, the battery must be charged by immobilizing the chair. It should offer a plug-in lithium-ion battery pack. That way you could charge one pack while using a second pack, and never have to immobilize the chair for charging.
Reviewer:
george t. from sunnyvale, ca
User Details:
I am an 86-year-old male polio survivor. I live in this chair.
11/14/2019
Strengths:
Easy to drive/lift makes reaching things much better.
Weaknesses:
Foot plate is a bit hard to raise and lower. Longer armrests would making getting in/out easier.
Reviewer:
donald s. from abilene, tx (caregiver)
User Details:
61yrs old/nerve damage causes balance issues and makes doing any thing dangerous especially in the kitchen/the lift feature really helps
Jazzy Air 2 Extended Range: Review
11/09/2019
Weaknesses:
Backing up, wheels in back need to be closer and not stick out as far as they do.
Reviewer:
reine w. from rio rancho, nm
User Details:
Every day all day
Love the chair - dislike the "guide/stability" wheels.
11/05/2019
Strengths:
This chair has lots of comfort settings and the ability to rise up 11 inches is very helpful.
Weaknesses:
The weakness is the auxiliary wheels that are there for stability. Total wheel base is too long! This prevents easy maneuverability at times (the outer wheels). Also, I would have liked slightly longer arms.
Reviewer:
valerie b. from litchfield park, az
User Details:
This purchase was for a 60+ woman with a below-knee amputation of the right leg.
Great product for elevating user; the size of the base can...
06/23/2019
Strengths:
The elevating feature and ability for user to make 360 turn
Weaknesses:
The width makes it tricky to get through a standard sized door. My husband really needs thigh rails so that his legs don't fall out to the sides, since he has minimal muscle in them.
Reviewer:
wendy e. from glenn dale, md (caregiver)
User Details:
My husband has inclusion body myositis and can no longer walk.
I bought this particular model because it look like it was...
04/05/2019
Strengths:
I find it very helpful to be able to work in my kitchen without having to stand on one leg for hours on end
Weaknesses:
It's just a little bit long for maneuvering in a tight area
Reviewer:
thomas r. from west palm beach, fl
User Details:
I'm 73 years old amputee right leg still work five days a week eight hours a day.