Jazzy Air 2 Extended Range
Limited Time Free White Glove Delivery. Travel up to 19.2 miles on this industry leading power wheelchair!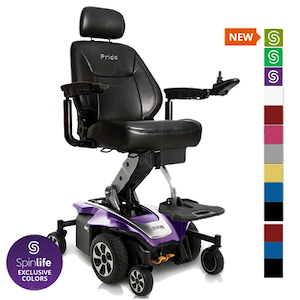 More Information on the Jazzy Air 2 Extended Range
BACK TO TOP
Reviews
Viewing 1 - 3 of 3
Chair just a little too big for my house
06/04/2020
Strengths:
Elevating seat
Weaknesses:
The two wheels in the front sometimes hit my feet
Reviewer:
william h. from talladega, al
User Details:
76 year old male not able to walk because of very bad knee's
My second Jazzy, replacing 10 yr old model bought 2nd hand....
04/26/2020
Strengths:
Mobility, especially when when paired with ADA automobile. Vertical mobility adds new dimension.
Weaknesses:
Large front wheels are cumbersome, make transfers more difficult.
Reviewer:
merle h. from coroust christs, tx
User Details:
I am a retired Naval Officer and professional pilot. I am 80.5 yrs old, 6'3", 265lbs, no balance.
Disappointing. Too huge to be convenient in the house.
03/22/2019
Weaknesses:
Not very useful. Does not fit well under countertops, desks or tables.
Reviewer:
andrea l. from delaware, oh (caregiver)
User Details:
Severe neuropathy. My legs/feet no longer do the job!