Jazzy Air 2
Limited Time Free White Glove Delivery. A power elevating seat that raises you up 12" in just 11 seconds!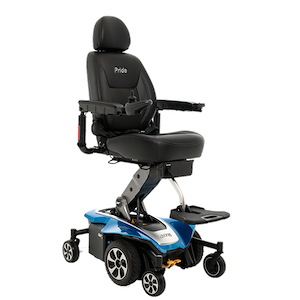 More Information on the Jazzy Air 2
BACK TO TOP
Reviews
Viewing 1 - 12 of 28
08/15/2022
Weaknesses:
Very sensitive joy stick
Reviewer:
kathleen k. from fernandina beach, fl
User Details:
64 year old retired disabled nurse that can walk short distances with a walker but any distance causes pain. 2019 I had spinal surgery.
08/05/2022
Weaknesses:
center wheel drive would prefer a real wheel drive
Reviewer:
ed w. from alma, mi
User Details:
double amputie use the chair all the time
So far our unit is working well.
07/27/2022
Strengths:
Point of elevating.
Reviewer:
leonid s. from rosedale, md (caregiver)
User Details:
Irina Shats, physical disability person.
07/10/2022
Strengths:
Maneuverability! Seating!
Weaknesses:
Arm rests could be wider and longer.
Reviewer:
david s. from minot, nd
User Details:
Not provided
The unreachable is now in reach again
05/13/2022
Strengths:
A small, compact footprint and tight turning radius. Of course, the ability to become taller at the touch of a button.
Weaknesses:
Low speed range does not seem to lower speed of spinning in place; causing some rather "close" moments in tight quarters.
Reviewer:
richard c. from libertyville, il
User Details:
87 yo male who has been declining in mobility over many years. Moved from a scooter/walker combo to Jazzy air2 power wheelchair.
The jazzy two is perfect for anyone who has mobility issues...
03/19/2022
Strengths:
The ability of it to raise a person to a height where they can use it for cooking, while at the grocery store, well at a restaurant, and virtually anywhere it is difficult for someone to get up out of a chair that is too low for them to manipulate on their own.
Weaknesses:
The forecaster wheels do not do well on carpet and swing around unexpectedly causing the individual to hit a wall or hit a door jam going into a room.
Reviewer:
jay j. from tucson, az
User Details:
63-year-old male with IBM issues, needing a wheelchair full time.
01/13/2022
Strengths:
Excellent seat rise Sturdy Smooth ride
Weaknesses:
A bit too big to get around house
Reviewer:
donna s. from kingman, az
User Details:
Unfortunately I had to return the chair It was very well made but for me it just didn't work out for me I found it a bit too big the get around in
01/09/2022
Reviewer:
james h. from atchison, ks
User Details:
84 years and have ms plus just got out of nursing home after gullblatter surgery left me full of infection so It's going to great getting around .
06/22/2021
Strengths:
The leveling feature. I as not able to get out my old wheelchair without somebody to help.
Weaknesses:
The foot rest should be easier to move up.
Reviewer:
kryn t. from indio, ca
User Details:
I have ibm disease .1 am 89 years old. And have ibm for about 11 years.
Love the height adjustment
05/21/2021
Strengths:
Its ability to raise 12" in seconds
Weaknesses:
The armrest pads need to be able to adjust forwards for someone like me who is 6' tall with very long arms. Also, an option for separate footrests for each leg would be very helpful. For taller people with lots of leg, the footrest is really inadequate.
Reviewer:
mark f. from boise, id
User Details:
66-year-old male with Limb-Girdle Muscular Dystrophy
03/13/2021
Strengths:
Lifting ability
Reviewer:
jim w. from annapolis, md
User Details:
81 male handicap hard to stand and walk
For a younger, thinner person would be great.
03/10/2021
Strengths:
Ease of use. Really nice chair for the right person.
Weaknesses:
The switches on the arms where they are accidently turned off and on. The switch on the back of the chair to fold it up. Also made a very loud squeaking sound when raising the chair.
Reviewer:
barbara n. from salinas, ca
User Details:
I am a 71 year old who has been paraplegic for 34 years. The only problems-plastic switch that rubbed on my rump & switches on the arms.