Jazzy Air 2
Limited Time Free White Glove Delivery. A power elevating seat that raises you up 12" in just 11 seconds!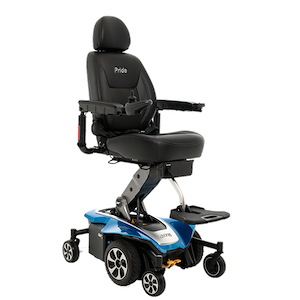 More Information on the Jazzy Air 2
BACK TO TOP
Reviews
Viewing 1 - 7 of 7
The spinner wheels in the front make it hard to control
05/14/2022
Strengths:
The up & down controls
Weaknesses:
The front spinner wheels.
Reviewer:
althea s c. from henderson, nv
User Details:
Not provided
Great chair, but too big for our house.
05/13/2022
Strengths:
Design, features and quality are best features, but the chair it too large for use in smaller homes with narrow hallways, and tight turns into bedroom/bathrooms
Weaknesses:
Size is the major problem for in house use. Needs to be shorter with a tighter turn radius.
Reviewer:
charles l. from lawrenceburg, in
User Details:
Jazzy 2 was purchased in hope of use by my spouse to navigate the house and kitchen since she cannot walk (67 years old) due to spinal issues.
01/15/2022
Strengths:
To raise and lower the seat.
Weaknesses:
There are no seat adjustments. She is somewhat uncomfortable sitting in it.
Reviewer:
michael m. from delavan, wi (caregiver)
Still adjusting to 6 wheels and arm rest height
01/09/2022
Strengths:
Ability to raise height. Footplate flush when raised. Swing away mount.
Weaknesses:
Lack of storage, no cup holder. Back wheels are hard to get used to, keep hitting doorways. Armrests cannot be lowered enough to reach floor to pick up things. Difficult for side transfers with big wheel in middle.
Reviewer:
cheryl b. from salem, nh
User Details:
66 year old with MS. No standing transfers, only side slide transfers. Unable to stand at all. In wheelchair 12 hours a day.
Chair just a little too big for my house
06/04/2020
Strengths:
Elevating seat
Weaknesses:
The two wheels in the front sometimes hit my feet
Reviewer:
william h. from talladega, al
User Details:
76 year old male not able to walk because of very bad knee's
My second Jazzy, replacing 10 yr old model bought 2nd hand....
04/26/2020
Strengths:
Mobility, especially when when paired with ADA automobile. Vertical mobility adds new dimension.
Weaknesses:
Large front wheels are cumbersome, make transfers more difficult.
Reviewer:
merle h. from coroust christs, tx
User Details:
I am a retired Naval Officer and professional pilot. I am 80.5 yrs old, 6'3", 265lbs, no balance.
Disappointing. Too huge to be convenient in the house.
03/22/2019
Weaknesses:
Not very useful. Does not fit well under countertops, desks or tables.
Reviewer:
andrea l. from delaware, oh (caregiver)
User Details:
Severe neuropathy. My legs/feet no longer do the job!