Spitfire Scout 4
A fun, easy to disassemble 4-wheel scooter for the budget conscious shopper.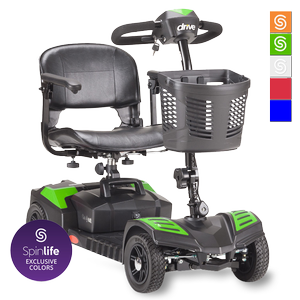 More Information on the Spitfire Scout 4
BACK TO TOP
Reviews
Viewing 1 - 12 of 132
Scooter met all expectations except turning ability, needed...
09/17/2022
Strengths:
Very sturdy, carries passenger well at acceptable speed.
Weaknesses:
Turning radius
Reviewer:
william m. from montgomery, al
User Details:
Have had 3 major back surgeries that negatively effects my walking ability, plus knees are painful, use a 3 wheel walker inside and outside house…
08/14/2022
Weaknesses:
Light on power
Reviewer:
earnie m. from greeneville, tn
User Details:
88 year old male
06/23/2022
Strengths:
Light weight easy to operate charger should be on tiller
Weaknesses:
Turn radius not good
Reviewer:
john l. from north platte, ne
User Details:
Unable to walk back pain unable to bend
05/15/2022
Strengths:
Speed and maneuvering, ease of turning and four wheel stability.
Weaknesses:
Needs a cane holder and a cup-holder.
Reviewer:
michael b. from watertown, ma
User Details:
72 year-old with osteoarthritis in both legs. The Scout gives me increased mobility and saves my legs giving me more stamina.
Seat is not padded enough, very uncomfortable.
05/06/2022
Strengths:
Battery last a long time
Weaknesses:
Seat uncomfortable
Reviewer:
sandra n. from ormond beach, fl
User Details:
Age-73, difficulty walking.
Serves the purpose we needed.
04/22/2022
Strengths:
Ease in assembly.
Weaknesses:
The strength of the plastic parts.
Reviewer:
jim t. from warner robbins, ga
User Details:
75 yr. Old man with severe back problems and bilateral knee problems all of which prevents him from walkinmore the very short distances without having
Good product husband loves it
04/04/2022
Strengths:
Easy to assemble,husband says comfortable to ride
Reviewer:
patricia m. from wellington, fl (caregiver)
Great scooter that does the job. Just as it's supposed too!
07/22/2021
Strengths:
Seems to be dependable and it's small and maneuverable enough to move around in the store without any issues. Also seems to have plenty of power and speed.
Weaknesses:
There is not much in the way of any basket space. But it is a small scooter. It also left her stranded in a parking lot when the drive section became unhooked and it stopped in it's tracks. A quick call to Spinlife and they had us up and running again in no time. Hopefully it was a one time issue. May not have been securely fastened from the factory or maybe I unintentionally hit the release handle unboxing it.
Reviewer:
russell f. from eastover, sc (caregiver)
User Details:
My wife has a yet as undiagnosed issue that is making it difficult at best for her to walk any distance without pain and extreme tiredness.
07/21/2021
Strengths:
Easy to put together, love that it has its own key
Weaknesses:
None, I do have one disappointment, I requested green plates & did not receive. I was sent red/blue.
Reviewer:
gay m. from coweta, ok
User Details:
Myself at age 52, I have bilateral arthritic knees, torn meschius & need a replacement. Its hurts to much to walk very far
Today it's 110+ degrees. I wish the seat wasn't black.
07/18/2021
Strengths:
Seat is a nice size and the armrests are handy for getting on and off. Overall, I am much happier with Spitfire Scout than I was with GOGO
Weaknesses:
Very difficult to plug into the charger. It needs an easier access and a simpler plug - perhaps a standard 3-prong at BOTH ends; Leg/foot room needs to be 2-3" more for a man's foot or a brace; Key could have easier access to the ignition.
Reviewer:
chris m. from la quinta, ca
User Details:
Polio handicapped both legs for 77 years. Weak arms. Post Polio Syndrome is getting worse. Can barely walk 100 steps without needing to rest.
06/25/2021
Strengths:
Handles very well.
Weaknesses:
Needs to be higher off the ground. Hard to move across grass.
Reviewer:
troy s. from greeneville, tn
User Details:
Disabled walking is very hard.
06/19/2021
Strengths:
Easy to load, handles well, affordable
Weaknesses:
distance from seat to front cowl. If knees don't bend well uncomfortable
Reviewer:
david j. from lake city, mi (caregiver)
User Details:
the Wife who has had multiple knee replacements, curvature of spine, and a broken foot.