Spitfire Scout 4
A fun, easy to disassemble 4-wheel scooter for the budget conscious shopper.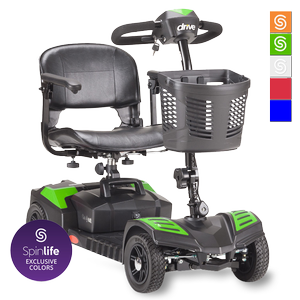 Drive Medical
(Model No. SFSCOUT4-DISC)
VIEW ITEM
More Information on the Spitfire Scout 4
BACK TO TOP
Discontinued
This product is either discontinued by the manufacturer, or no longer available at SpinLife.com.
We recommend the Scout 4-Wheel by Drive Medical. Features are very similar to the Spitfire Scout 4 and it can ship in Same day if ordered by 12pm ET.
If you need help choosing, please call our ProductExperts at 1-800-850-0335.
Need a Manual?
Reviews
Viewing 1 - 12 of 136
Great scooter, but the seat is not deep enough. I tried to...
11/04/2022
Strengths:
It has good power and a long foot bed.
Weaknesses:
Again, the seat is too small and not very padded.
Reviewer:
paula c. from gloucester city, nj
User Details:
Handicapped senior citizen
I would definitely recomend SpinLife to others.
10/25/2022
Strengths:
It's well made and looks good. So far, so good, keep up the good work.
Weaknesses:
The seat could be better, perhaps a little thicker to make it softer , cushier. Looking for comfort there.
Reviewer:
saverio i. m. from rierside, ca
User Details:
I'm very pleased with the service, and help. The products with SpinLife are well made and with fair and reasonable price.
Should have ordered larger seat.
10/19/2022
Strengths:
Price. Easy payment. Quick shipping.
Weaknesses:
Width of seats.
Reviewer:
joseph b. from raleigh, nc
User Details:
I'm a retired Transit operator that has problems walking and standing for long periods of time. Basically purchased for outside activities (fishing).
10/07/2022
Strengths:
It can go anywhere & fit in any car
Reviewer:
ed a. from lafayette, in
User Details:
Not provided
Scooter met all expectations except turning ability, needed...
09/17/2022
Strengths:
Very sturdy, carries passenger well at acceptable speed.
Weaknesses:
Turning radius
Reviewer:
william m. from montgomery, al
User Details:
Have had 3 major back surgeries that negatively effects my walking ability, plus knees are painful, use a 3 wheel walker inside and outside house…
08/14/2022
Weaknesses:
Light on power
Reviewer:
earnie m. from greeneville, tn
User Details:
88 year old male
06/23/2022
Strengths:
Light weight easy to operate charger should be on tiller
Weaknesses:
Turn radius not good
Reviewer:
john l. from north platte, ne
User Details:
Unable to walk back pain unable to bend
05/15/2022
Strengths:
Speed and maneuvering, ease of turning and four wheel stability.
Weaknesses:
Needs a cane holder and a cup-holder.
Reviewer:
michael b. from watertown, ma
User Details:
72 year-old with osteoarthritis in both legs. The Scout gives me increased mobility and saves my legs giving me more stamina.
Seat is not padded enough, very uncomfortable.
05/06/2022
Strengths:
Battery last a long time
Weaknesses:
Seat uncomfortable
Reviewer:
sandra n. from ormond beach, fl
User Details:
Age-73, difficulty walking.
Serves the purpose we needed.
04/22/2022
Strengths:
Ease in assembly.
Weaknesses:
The strength of the plastic parts.
Reviewer:
jim t. from warner robbins, ga
User Details:
75 yr. Old man with severe back problems and bilateral knee problems all of which prevents him from walkinmore the very short distances without having
Good product husband loves it
04/04/2022
Strengths:
Easy to assemble,husband says comfortable to ride
Reviewer:
patricia m. from wellington, fl (caregiver)
Great scooter that does the job. Just as it's supposed too!
07/22/2021
Strengths:
Seems to be dependable and it's small and maneuverable enough to move around in the store without any issues. Also seems to have plenty of power and speed.
Weaknesses:
There is not much in the way of any basket space. But it is a small scooter. It also left her stranded in a parking lot when the drive section became unhooked and it stopped in it's tracks. A quick call to Spinlife and they had us up and running again in no time. Hopefully it was a one time issue. May not have been securely fastened from the factory or maybe I unintentionally hit the release handle unboxing it.
Reviewer:
russell f. from eastover, sc (caregiver)
User Details:
My wife has a yet as undiagnosed issue that is making it difficult at best for her to walk any distance without pain and extreme tiredness.