Spitfire Scout 4
A fun, easy to disassemble 4-wheel scooter for the budget conscious shopper.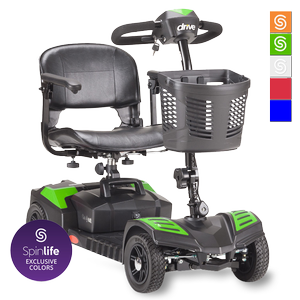 More Information on the Spitfire Scout 4
BACK TO TOP
Discontinued
This product is either discontinued by the manufacturer, or no longer available at SpinLife.com.
We recommend the Scout 4-Wheel by Drive Medical. Features are very similar to the Spitfire Scout 4 and it can ship in Same day if ordered by 12pm ET.
If you need help choosing, please call our ProductExperts at 1-800-850-0335.
Need a Manual?
Reviews
Viewing 1 - 12 of 16
I wish I was able to get air inflated tires.
04/19/2021
Strengths:
Ease of operation
Weaknesses:
No shock absorbers. Air inflated tires would help.
Reviewer:
william k. from mount joy, pa
User Details:
I have been 100% disabled by the VA and I have limited ability to walk without help.
Overall I'm happy with the product there is a few things I...
04/16/2021
Strengths:
The motor does seem to have all the power it needs for the size of the scooter.
Weaknesses:
The turning radius needs to be tighter
Reviewer:
landon t. from channelview, tx (caregiver)
User Details:
There's not enough power in reverse. The throttle sometimes sticks. Battery life isn't up to par. And battery gauge doesn't seem to be correct
04/11/2021
Reviewer:
donna b. from el paso, tx
User Details:
I really love it but I wish I could return it to get a three wheeler. It is diffult to get through my bedroon door and a few other doors.
It could be easier to load and transport.
12/02/2020
Strengths:
Easy to drive. Easy to sit down in and get out of.
Weaknesses:
The Key is in a hard to reach position to turn on and off. Too many pieces to take apart to load and unload. The seat gets hard after sitting while shopping. Cup holder should be included. Small wheels.
Reviewer:
lynn v. from brandon, fl
User Details:
I am 69 yrs old. I can't move around too good. I also can't walk very far. I am able to go shopping with the Spitfire Scout.
Too close to the ground cant go over speed bumps in our...
06/01/2020
Weaknesses:
Not able to go up dive way from road.
Reviewer:
tammy r. from caldwell, id
User Details:
Not provided
01/11/2020
Strengths:
Good for indoor use - could be more sturdy for outdoor use.
Weaknesses:
Best on even surfaces.
Reviewer:
lynn m. from south orange, nj
User Details:
72 year old living in assisted facility
01/05/2020
Reviewer:
alvin f. from kemp, tx
User Details:
Not provided
08/24/2019
Strengths:
Very easy to fit in trunk
Weaknesses:
Turning and battery runs out too fast
Reviewer:
richard t. from cumming, ga
User Details:
Not provided
06/21/2019
Strengths:
Ease of using.
Reviewer:
janet l. from hudson, fl
User Details:
I am a 83 year old female who suffers with neuropathy and also a bad knee so the scooter is terrific. I love it. Am taking it to the flea market next.
heavy duty scooter with the worst seat. No support, very...
03/20/2019
Weaknesses:
The ride is very rough due to the poor quality of the seat. Feel every bump. Horrible ride.
Reviewer:
frank l. from hanes city, fl
User Details:
User has had several surgeries on both neck and back. Bi lat hip replacement. Lives in pain daily. Can't walk long distances.
It makes a loud noise when it rolls and I don't know what...
02/20/2019
Strengths:
It is good for the need but the noise makes me just want to park it because it is very embarrassing. I had one for years I bought locally and never had any problems till years later. Repair was too expensive.
Weaknesses:
I really can't answer this question because I don't know the cause of the noise it makes. I hate to make a bad review but don't what to do about the problem. As a whole it fits my needs but it stresses me too much to ride it.
Reviewer:
victoria c. from union city, ga
User Details:
I have Post Polio Syndrome from having Polio at age 5. I am 73. I need 2 scooters for home and van. This helps not to have to load and unload.
I ordered green but got red, was told the green would be...
01/26/2019
Strengths:
Price, 4 wheels, length
Reviewer:
james m. from brandon, ms
User Details:
72 year old male, can't walk