Tracer IV Custom
Choose from a variety of seat widths, armrests, legrests, casters and upholstery to suit your needs.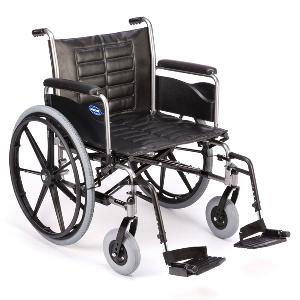 More Information on the Tracer IV Custom
BACK TO TOP
Reviews
Viewing 1 - 12 of 12
For the most part this chair is very easy to maneuver. ...
07/17/2019
Strengths:
I like How much LIGHTER it is than my other wheelchair. The wheels are closer than my other chair which makes it easier to get through doorways, and much easier for me to roll. Pretty comfortable.
Weaknesses:
The armrests need to be stronger. The backrest needs to be a bit higher. Needs a flap on back of chair to hold things like your phone, tissues.
Reviewer:
nancy c. from port huron, mi
User Details:
70 years old cannot walk
07/05/2019
Strengths:
It is a basic, sturdy chair. It is available in different seat configurations. The longer seat lengths are helpful for a tall person. The hand grips are well placed for caregiver assistance.
Weaknesses:
It is heavy. The armrests are removable but do not swing back. It is very difficult for someone in the seat to reach back and unfasten the rear attachment and then reattach the armrest when done. Lastly, the chair drifts a bit to the left in use.
Reviewer:
thomas s. from mchenry, il
User Details:
67 year old male with MS. I can no longer walk and am dependent on a wheelchair for mobility.
The tires were not what we expected at all and the arms are...
04/20/2017
Weaknesses:
Brakes are difficult to engage and backwards.
Reviewer:
jonathan m. from acton, me (caregiver)
User Details:
39, unable to use left leg.
Custom chairs cannot be returned.
07/22/2016
Strengths:
I'm sure it is a great chair.
Weaknesses:
The specs did not include the measurement of the wheel base. It will not fit through the door. Now we are stuck with an expensive chair that we cannot use and can't sell for what we paid. VERY DISAPPOINTED!!!
Reviewer:
jean g. from melbourne, fl (caregiver)
User Details:
The chair was purchased for my brother who lives in an assisted living facility. He cannot use the chair.
Would be better if it was built to last.
02/12/2016
Strengths:
Easy to order & ship
Weaknesses:
Frame welds and metal are weak. Usually needs repair welding after 1 1/2 years
Reviewer:
john z. from coarsegold, ca (caregiver)
User Details:
This was for my 40 YO son who has chronic foot problems. This is the 3rd or 4th chair purchase from Spinlife, they only last about two years.
Poor quality materials used for front wheels and bearings.
11/14/2015
Weaknesses:
Plastic wheel rims and bearings should not be on a heavy-duty wheelchair, because of the materials used this chair will not last wear and tear very long. Hand brakes are backwards to what I am used to using.
Reviewer:
david h. from jacksonville, fl
User Details:
51-year-old male amputee (of right leg).
05/14/2015
Weaknesses:
Sort bars and lousy brake useage. Brakes dont hold well and lock in the opposite direction from other wheel chairs
Reviewer:
jeff w. from miami, fl
User Details:
Not provided
12/07/2013
Strengths:
cheaper than most.
Weaknesses:
Wears out quickly. Have replaced wheel bearings - tires wear thin - welds break. Have had 3 (possibly 4) from invacare and all wore quickly.
Reviewer:
john z. from coarsegold, ca (caregiver)
User Details:
Large 37 year old man
If you want to adjust it on arrival.
07/31/2012
Strengths:
Nice color. Easy to collapse for transport
Weaknesses:
Large wheels rubbed frame. We had to add a washer to the akel to fix the rub.
Reviewer:
patricia g. from palmyra, mo (caregiver)
User Details:
63 yr old amputee. accident related. uses when take off his prosthesis.
This product is not as good as my old Tracer.
07/09/2011
Strengths:
I really can't say what the strenghts are.
Weaknesses:
Rubber caps that are suppose to go on axle do not fit (no where near to a close fit); you can't adjust the wheels for the seat to set level(either slanted backwards or forwards);
Reviewer:
henry l. from land o lakes, fl
User Details:
Not provided
06/19/2011
Reviewer:
patricia d. from stamford, ct
User Details:
the chair is a good looking chair, and strong,I like the way the legs swing out when your not using them, the chair is easy to handle and comfortable
03/24/2010
Strengths:
easy assembly upon arrival
Weaknesses:
heavy and difficult to maneuver
Reviewer:
judith m. from aurora, il
User Details:
knees non functional unable to stand or walk for any distance