Outlander TM
Take your travel scooter anywhere without the hassle of dissassembly and reassembly.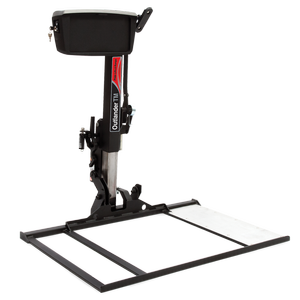 Paragon by Harmar
(Model No. SSESL1008)
VIEW ITEM
More Information on the Outlander TM
BACK TO TOP
Reviews
Viewing 1 - 9 of 9
easy to use,,makes it easier to get out of the house
11/21/2020
Strengths:
easy to loar scooter. love the lock downbar
Reviewer:
sharon m. from winchester, va
User Details:
back problems and breathing problems
Compact and easy to operate.
09/28/2017
Weaknesses:
Could use a battery voltage indicator.
Reviewer:
bruce d. from monroe, nj (caregiver)
User Details:
70 year old female who needs to be self sufficient. Wanted to be able to drive by herself and utilize a scooter. This unit is compact and easy to use.
08/02/2017
Strengths:
Easy to handle.
Weaknesses:
I don't have any.
Reviewer:
lindsay john p. from maple ridge , canada
User Details:
Age 88. Works well.
07/24/2016
Strengths:
With the Outlander TM I'm lucky to be able to use my rear back up camera.
Weaknesses:
So far, none.
Reviewer:
juan m. from west palm beach, fl (caregiver)
User Details:
We have this only as a backup, she has not used it yet. She is 70 but her back is giving up. I know this is something that will do the job.
WELL BUILT UNIT NEEDING ONLY BETTER USABILITY INFORMATION.
06/09/2016
Strengths:
WELL BUILT AND DESIGNED
Weaknesses:
PLATFORM COULD BE MADE A BIT MORE UNIVERSAL. SEAT LOCKDOWN ONLY WORKS WHEN GO-GO IS BACKED ON.
Reviewer:
paul p. from anacortes, wa
User Details:
AGE 76 MALE WITH COPD NEEDING TRANSPORTATION AROUND MALLS, DEPT. STORES, PAVED SCENIC WALKWAYS, ETC.
05/14/2016
Reviewer:
lon t. from terrell, tx
User Details:
Not provided
Great experience with SpinLife
09/30/2015
Strengths:
The customer service behind the product.
Weaknesses:
It did take several phone calls to get the replacement lift
Reviewer:
donna n. from sturgis, sd
User Details:
Having an electric lift was a necessity for me since my husband was having trouble loading my scooter on a regular carrier.
I feel blessed to have the lift.
05/13/2015
Strengths:
The ease of using the lift makes it all worthwhile.
Weaknesses:
The lift does have a vision restriction. I find myself using my side mirrors more frequently to see better behind me while driving.
Reviewer:
georgette e. from newark, ny
User Details:
I am a 67 year old female who shattered her left femur in a fall. Also had a total knee replacement 3 years earlier on the same leg. I cannot do a lot
I go somewhere every other day with my scooter on the lift.
03/12/2015
Weaknesses:
No alert not to put cover on scooter then raise it! I had to patch the resulting hole in the cover.
Reviewer:
jack s. from springfield, va
User Details:
82 year old male.