Top End Force-3
The newest addition to the Top End Force Family, great for both beginners and veteran handcycliers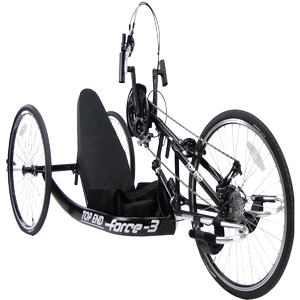 Top End
(Model No. TE10039/TE10040)
VIEW ITEM
More Information on the Top End Force-3
BACK TO TOP
Reviews
Viewing 1 - 3 of 3
Easy to use and great exercise.
08/22/2021
Strengths:
The range of gears makes riding easy and enjoyable.
Reviewer:
alan r. from londonderry, nh
User Details:
I'm 55 years old and I have a SCI my Force 3 gives me the exercise and cardio my doctors have been telling me I need.
Paraplegics can have fun too!!!
06/20/2016
Strengths:
Getting paraplegics out of the house!!!
Weaknesses:
Needs a front fender
Reviewer:
joel d. from south gate, ca
User Details:
Where do I start...I've been a paraplegic for over 25 years finally get to get out!!! GOD IS GOOD!!!...lots of fun!!!
01/03/2016
Reviewer:
lefty s. from lewisburg, wv
User Details:
This was purchased for a handicap child by a school group as a service learning project. there were 2 purchased, for a 9 and 10 year old. both happy