Legend 3-Wheel
Fully loaded scooter that epitomizes class and elegance.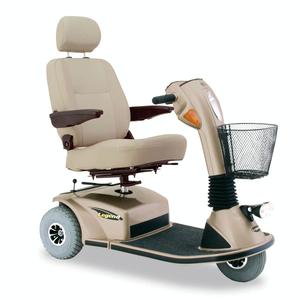 More Information on the Legend 3-Wheel
BACK TO TOP
Discontinued
This product is either discontinued by the manufacturer, or no longer available at SpinLife.com.
To find a comparable product at SpinLife.com, please
click here
or call our ProductExperts at 1-800-850-0335.
Need a Manual?
Reviews
Viewing 1 - 8 of 8
Arms are too low. Too wide for door-ways
03/01/2009
Strengths:
Power. Not easy to tilt when driver of van goes around a corner
Weaknesses:
Arms are too low. No seat belt. Too big for making turns and too long or doorways
Reviewer:
fred d. from dothan, al
User Details:
62 female I have Multiple Sclerosis
does not stop qjick enough
10/24/2008
Strengths:
Nice looking and moves well
Weaknesses:
It does not stop when you let off lever. It will roll another two or three feet sometimes.
Reviewer:
sharon m. from apache junction, az
User Details:
Not provided
08/11/2008
Strengths:
Cost and Comfort, as well as the extras included, such as mirrors, basket, cover
Weaknesses:
Found some small problems, such as basket will fall off if not weighted down due to bouncing - solved it by adding a bungee cord. The seat is quite heavy, so disassembly is hard if you are not fully capable. The most important problem is the braking. The scooter will not stop when you expect it to some times. Handling around a lot of people makes it a bit tedious as you are never sure if it will stop in time.
Reviewer:
frank s. from bartlett, il
User Details:
Paraplegic with limited use of legs.
11/25/2007
Strengths:
I have had a mobility scooter before and know something about them. The thing that I like about the Legend three wheel schoter are the lights. I can go out at night without having to worry about seening and being seen by others. My previous scooter had no light.
Weaknesses:
When I first received the Legend three wheel scooter It was fully assembled with the exception of the rear view mirror, and basket which were easy to install. It took me quite a bit of time to discover that the batteries and front section of the scooter were not pluged in under the rear cover. I was quite frustrated until I had found out how to remove the rear cover and even then it took awhile to discover that the batteries were unpluged. I could find no instruction that indicated that there were three plugs that had to be pluged in by the user.
Reviewer:
william h. from livingston, tx
User Details:
I am a seventy year old with severe back and knee problems and can't stay on my feet more than fifteen minutes at a time.
10/13/2007
Reviewer:
roger w. from havre de grace, md
User Details:
52 year old male HX. Polio and diabetes.
Well made,easy to controll.
09/18/2007
Weaknesses:
Having to spend additional money to buy a lift to put it into my vehicle.
Reviewer:
clifford b. from towanda, pa
User Details:
75yrs., heart and breathing, one lung partial removal.
09/08/2007
Strengths:
Very comfortable and stable. Easy to get on with the swivel seat. Great speed and battery lasts a long time.
Weaknesses:
Not good for inside use. Difficult to disassemble and transport. Larger than realized. Difficult for travel. Bit expensive.
Reviewer:
mary n. from canton, ok
User Details:
I am 48 yrs old w/MS. I have difficulty walking and standing. The cane wasn't enough anymore.
11/08/2006
Strengths:
The 2 sets of lights in front--excellent--comfort--not only in seat, but the platform as well.
Weaknesses:
Can only move forward with right lever--there should be two levers on each side for both forward and backward motion--reason?--so a hand can be free to steer through non automated doors
Reviewer:
gloria b. from long beach, ca
User Details:
I have M.S. - my legs are very weak, cannot walk very far, can't drive anymore -scooter is my legs.