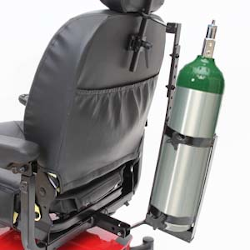 Pride
Oxygen Holder
(Model No.

ACCASMB2292

)
Buy now & save $30.00!
Regular Price: $150.00
Our Price: $120.00
This oxygen tank holder is designed to fit both D and E size tanks. It attaches to the universal accessory holder located on the back of all Pride scooter and power wheelchair seats.
If you are using the smaller D tank, there is an adjustment on the holder that allows the smaller tank to fit securely in the holder.