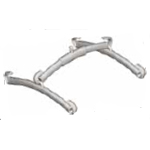 Liko (A Hill-Rom Company)
4-Point Sling Bar Adapter (For large only)
(Model No.

P3156079

)
Buy now & save $37.00!
Regular Price: $454.00
Our Price: $417.00
Universal SideBars are an alternative to Liko's Cross-Bars to achieve a four-point suspension. The SideBars are easily attached to and disconnected from a Universal SlingBar. When loaded, the SideBars adapt to the sling, which usually means that they hang somewhat diagonally, thereby providing more space for the patient's shoulders.