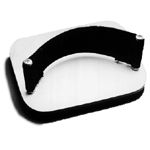 Invacare
Heel Loops
(Model No.

1346

)
Buy now & save $12.32!
Regular Price: $41.57
Our Price: $29.25
Choose the Heel Loops option to prevent your feet from falling behind the foot plates when using swing-away footrests. Heel Loops are typically composed of a sturdy nylon fiber and connect directly to the back of the foot plate to provide support behind the heel. Standard on swing-away footrests.