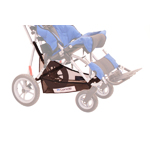 Convaid
Under Seat Storage Basket
Buy now & save $8.00!
Regular Price: $68.00
Our Price: $60.00
The storage basket is the perfect place to stow essential items. It is made of black mesh fabric and attaches to the chair frame with easy-to-use snap closures. The storage basket does not need to be removed when folding the chair.